祝贺中华人民共和国成立70周年
0

northernalliance
2019年09月29日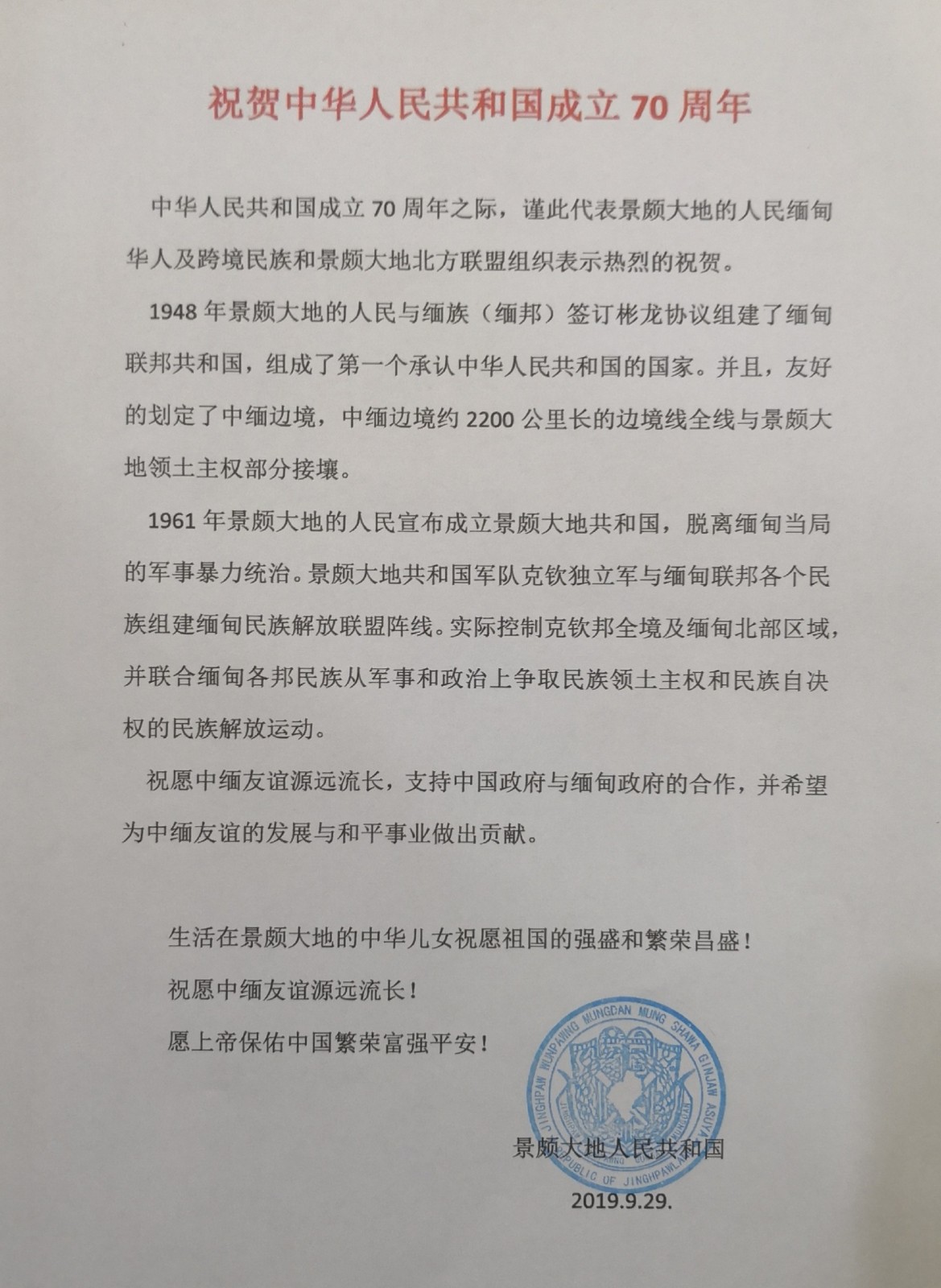 祝贺中华人民共和国成立70周年
Congratulations on the 70th anniversary of the People's Republic of China
On the occasion of the 70th anniversary of the founding of the People's Republic of China, the People's Republic of Jinghpawland expressed its warm congratulations on behalf of the people of the Jinghpawland the cross-border ethnic groups the Northern Alliance of Jinghpawland
In 1948, the people of Jinghpawland the Burmese (Myanmar state) signed the Binlong Agreement to form the Federal Republic of Myanmar, the first country to recognize the People's Republic of China. Moreover, the China-Myanmar border was friendlyly delineated, the 2,200-kilometer-long border line between China Burma was bordered by the territorial sovereignty of Jinghpawland
In 1961, the people of Jinghpawland the establishment of the Jingpo Republic, they were separated from the military violence of the Burmese federal authorities. The Kachin Independence Army the various ethnic groups of the Union of Myanmar formed the Myanmar National Liberation Union Front. Actually control the entire territory of Kachin State the northern part of Myanmar, unite the national liberation movements of the various ethnic groups in Myanmar to fight for national territorial sovereignty national self-determination from the military politics.
The Chinese people living in Jinghpawl are wishing for the prosperity prosperity of the motherland.
I wish China-Myanmar friendship has a long history, support the cooperation between the Chinese government the Myanmar government, hope to contribute to the development peace of China-Myanmar friendship.
I wish China-Myanmar friendship has a long history!
I wish God bless China's prosperity, prosperity peace!
Republic of Jinghpawland
2019.9.29.