云南省30家企业亮相中非经贸博览会
0

northernalliance
2019年06月28日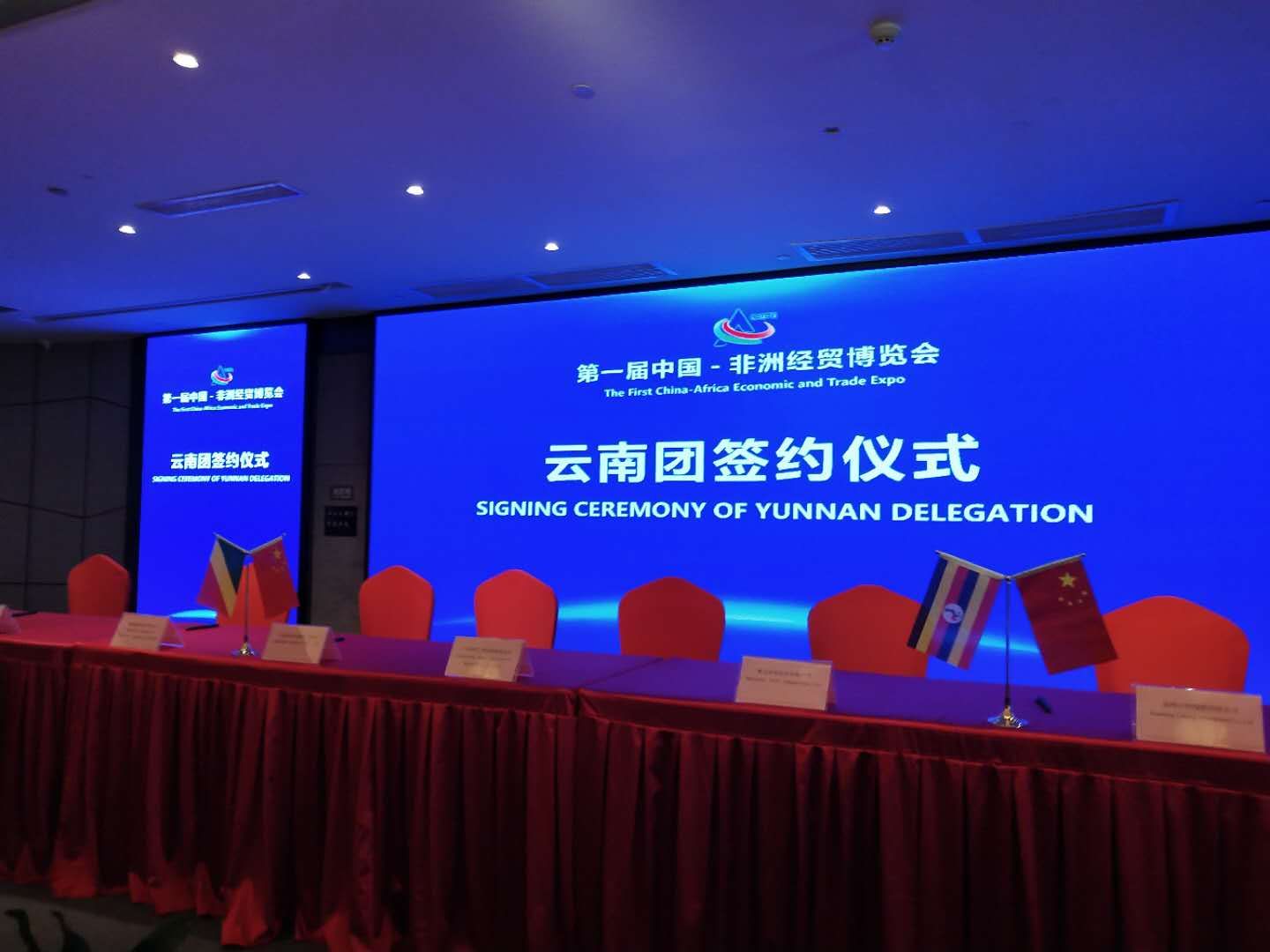 (签约视频)
云南省30家企业亮相中非经贸博览会
转载: 2019-06-28 08:03 云南日报
首届中国-非洲经贸博览会6月27日在湖南长沙开幕,云南30家企业亮相展会。
博览会以"合作共赢,务实推进中非经贸关系"为主题,吸引53个非洲国家,联合国工发组织、世界粮食计划署、世贸组织、非洲联盟等国际组织,以及国内31个省(区、市)、新疆生产建设兵团、央企等代表团参会参展。
我省参会企业包括云投集团、云锡集团、云天化集团、云南建投集团、云南交投集团、云南城投集团、昆药集团、星耀集团等。这些企业将展示产品和服务,参加会期各类活动及洽谈,拓展与非洲的贸易合作。
此次博览会,我省精心策划展示亮点,在云南展区内重点展示高原特色现代农业、生物医药、外经外贸等产业发展情况,云南主动服务和融入"一带一路"建设、建设面向南亚东南亚辐射中心以及进一步扩大开放的相关成果,云南与非洲开展投资合作等方面的情况。
又讯 6月27日,在湖南长沙举办的首届中国-非洲经贸博览会上,云南在非投资合作项目集体签约仪式举行。
签约仪式上,云南斯盖尔检测技术有限公司与几内亚投资和公私合作部签约,合作建设几内亚进出口检验检疫中心项目;昆明立恒投资有限公司与鲁文佐里盐业有限公司签约,合作建设乌干达盐化工项目;中国水利水电第九工程局和刚果经济与技术合作公司签署刚果共和国黑角麟昆1138兆瓦燃气联合循环电站项目一揽子协议,其中,刚果经济与技术合作公司为云南麟昆果能源开发有限公司在刚果投资设立。
近年来,滇非贸易持续健康发展。2018年,云南对非洲贸易额为3.59亿美元。今年前5个月,云南对非洲贸易额为8885万美元,主要贸易商品为包装机械、卷烟、疫苗、酵母等。
几内亚驻华大使索·伊帕伊马·索雷出席签约仪式。(记者 韩成圆)
责任编辑:徐前
China Africa Economic Trade Fair with 30 Enterprises in Yunnan Province
Reproduced: 2019 -06 -28 08:03 Yunnan Daily
The first China-Africa Economic Trade Fair was opened in Changsha, Hunan on June 27, 30 companies in Yunnan appeared at the exhibition.
With the theme of "win-win cooperation pragmatic promotion of China-Africa economic trade relations", the Expo attracted 53 African countries, the United Nations UNIDO, the World Food Programme, the World Trade Organization, the African Union other international organizations. As well as 31 domestic provinces(districts, cities), Xinjiang Production Construction Corps, central enterprises other delegations participated in the exhibition.
The participating enterprises in our province include Yuntou Group, Yunxi Group, Yuntianhua Group, Yunnan Jiantou Group, Yunnan Jiaotou Group, Yunnan Chengtou Group, Kunyao Group, Xingyao Group. These companies will display products services, participate in various events negotiations during the session, exptrade cooperation with Africa.
At the Expo, the province has carefully planned displayed bright spots, highlighting the development of modern agriculture, bio-medicine, foreign trade other industries with plateau characteristics in the Yunnan exhibition area. The results of Yunnan's active service integration into the Belt Road Initiative, the construction of a radiation center for South Asia Southeast Asia, the further opening up of Yunnan, Yunnan Africa have carried out investment cooperation.
Also on June 27, at the first China-Africa Economic Trade Fair held in Changsha, Hunan, Yunnan held a collective signing ceremony for non-investment cooperation projects.
At the signing ceremony, Yunnansigaier the Ministry of Investment Public Private Cooperation of Guinea signed a contract to cooperate in the construction of the Guinea Import Export Inspection Quarantine Center project; Kunming Liheng Investment Co., Ltd. signed a contract with Rwenzori Salt Co., Ltd. to cooperate in the construction of a salt chemical project in Uganda; The Ninth Engineering Bureau of China Water Resources Hydropower the Congolese Economic Technical Cooperation Corporation signed a package agreement on the 1,138 MW gas combined cycle power station project in the Republic of the Congo. Among them, the Congolese Economic Technical Cooperation Corporation invested in Yunnan Linkunguo Energy Development Co., Ltd. in the Congo.
In recent years, Yunnan-Africa trade has continued to develop healthily. In 2018, Yunnan's trade volume with Africa was 359 million U.S. dollars. In the first five months of this year, Yunnan's trade to Africa was US$ 88.85 million. The main trading commodities were packaging machinery, cigarettes, vaccines, yeast.
Guinean Ambassador to China Yipayima attended the signing ceremony. (reporter Hancheng)
Responsible Editor: Xuqian